How You Can Tell You See a Drupal Newbie's Website, Or Did You Forget To Change the Favicon?
Submitted by friendlydrupal on Oct 19, 2010
Drupal theme configuration page allows you to upload a custom shortcut icon a.k.a favicon.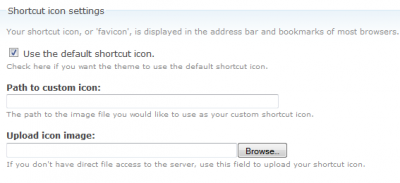 Drupal administrators (especially beginners) sometimes overlook this option and so their websites end up with the default icon (and who can blame them, it's not like Drupal doesn't have a million of other, usually more important settings to take care of).

I wouldn't call it a grievous error, of course, but having a custom favicon is one of those little touches that can help you to establishing a distinctive branding (favicons also show up in bookmarks or even as shortcut icons in Windows).
Traditionally, favicons have used ico format, with dimensions 16px by 16px and 8bit color. Modern browsers can work with GIFs and PNGs - except for Internet Explorer, as usual. The good thing about ICO format is that it allows for several resolutions at once.
Drupal Theme Tip: when setting the path to the custom favicon on the theme configuration page, don't enter the leading slash.
Related stories:
If you liked it this story, you might like the following: